So what is new (nu) rave music and style?
New rave
(sometimes spelled
nu rave
or
neu rave
) is a term applied to several types of music that fuse elements of electronic music, new wave, rock, indie,
techno, trance, breakbeat and electro house . It is most commonly applied to an arguable British-based music scene between 2005 and late 2008 of fast-paced electronica-influenced indie music that celebrated the late 1980s' Madchester and rave scenes through the use of neon colours and using the term 'raving' to refer to going nightclubbing.
The aesthetics of the new rave scene are largely similar to those of the original rave scene, being mostly centred around psychedelic visual effects. Glowsticks, neon and other lights are common, and followers of the scene often dress in extremely bright and fluorescent colored clothing.
Indeed, many consider New Rave to be defined more by the image and aesthetic of its bands and supporters, than by the somewhat vague sonic criteria.
I'll add that nu rave styling is widely spread on techno festivals nowadays and has increased its popularity among the young people.
Klaxons,
Trash Fashion,
New Young Pony Club
, Hadouken!, Late of the Pier and Shitdisco
are generally accepted as the main exponents of the genre (although some of them disavow the term entirely).
And let see photos representing the new party style, after the old is already in the past. First I want to post pictures from one catwalk taking place at London Fashion Week. Its name is Fashion East and that comunity has the tast to promote new designers. One "star" from that vrew who already is working alone is the genial Gareth Pugh. In 2007 Louise Goldin, Danielle Scutt, and Henry Holland were sharing the incubator for great minds. And this is probably the first official catwalk with elements - Nu Rave. Henry Holland has created the first 17 outfits of the catwalk in party new rave style. Here are some of the most interesting looks from the event.
Of course shortly after the catwalk the new style fastly spread in the night clubs. It's fresh, it's new, it's the best replacement for the 90s techno clothes that are looking so not 21st century. The night life was waiting for that new image for a long time. A gap where half of the crowd was still dressed in bell bottomed pants and the other half just in jeans and common black dress. Confusing, isn't it? Here's the the long expected fashion child of new electro sound. NU RAVE!!!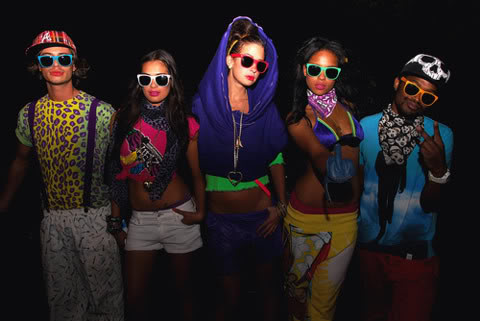 It is sure that this young style has a lot to add in future, so I will be eager to keep in touch with all its metamorphosis through the future decade.